If you're searching for a more long-term option to correct your vision than glasses or contacts, you've likely considered laser eye surgery. Questions are bound to pop up: is laser eye surgery worth the time and money? Is it the type of procedure that you'll have to undergo again and again and again to see real results?
Red Deer Eye Care Centre's friendly team of professionals is passionate about providing you with all the knowledge you need to make the best choice for your eyes. Read on to explore how laser eye surgery works, who's a good candidate for laser correction, and how long the procedure can last.
What is Laser Eye Surgery?
Laser eye surgery is a broad term that encompasses a host of medical procedures that use laser technology while treating the eyes. However, in everyday use, it refers to refractive surgeries that correct problems, including myopia, hyperopia, and astigmatism.
For the best outcome after laser eye surgery, candidates should meet the following requirements:
18 years or older
Having a stable eye prescription for multiple years
Having eyes healthy enough to support the surgery
Corneas must have the appropriate thickness and curvature
Be generally healthy
Contraindications for Laser Eye Surgery
If you're looking to undergo laser eye surgery and have the hopes of very long-lasting vision correction, know there are some risk factors and conditions that will likely make you ineligible for the surgery itself. These include:
Extremely dry eyes
Repeated and regular eye infections
Thin, damaged, or diseased corneas
An unstable prescription
Extremely high levels of refractive error
Advanced glaucoma
A cataract that interferes with your vision
Unmanaged diabetes
Our Recommended Laser Eye Surgeries
Red Deer Eye Care Centre works closely with trusted laser eye surgeons to co-manage your care. We can offer you a comprehensive eye exam and consultation to determine whether or not laser eye surgery is the right choice for you. After we refer you to a surgeon and you undergo one of the following procedures, we also help manage your post-surgical care.
LASIK
Laser-assisted in situ keratomileusis (LASIK, for short) is a refraction correction surgery where your doctor will use a blade or laser to open a thin flap on the surface of your eye. Then a laser custom programmed to correct your vision will reshape the cornea.
The procedure generally takes less than 20 minutes, and most people have clear vision as soon as the next day. The healing process takes some time, however, and you may experience temporary side effects including:
Dry eyes
Glares, halos, or double vision
Flap problems
PRK
Photorefractive Keratectomy (PRK) surgery operates very much like LASIK, but instead of using a blade or laser to cut a flap, the top layer of cells on the eye (the epithelium) is removed with a swab or brush. Following the laser correction, a bandage-like contact lens is placed over the surgical site.
PRK takes longer to heal, with 80% of patients reporting clear vision after a month, with that number rising to 95% after 3 months. There may be side effects like:
Hazy vision
Light sensitivity
Eye pain
Corneal scarring or infection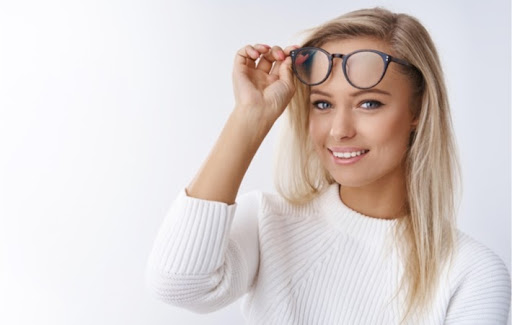 Life After Laser Eye Surgery
The results of laser eye surgery are overwhelmingly positive. A study examining laser eye surgery patients showed that over 95% of patients were happy with the outcome of their surgery.
Laser eye surgeries permanently correct your vision, as they physically change the shape of your eye. Your eyes grow and change like the rest of your body, though, so if your vision changes, you may need to seek enhancement surgery—35% of patients have done so.
Remember though, even if your vision may be clear, routine optometrist visits are still necessary to watch for eye conditions and monitor your eye health.
The Presbyopia Problem
For successful laser eye surgery candidates, the physical changes made to the eye's surface can lead to refractive error correction that can last a lifetime. However, no one can stop the progress of time, which means you may still experience symptoms of presbyopia.
Presbyopia is a naturally occurring condition where the lens of the eye becomes less flexible over time. It's the condition that leads many of us to require reading glasses as we age. Presbyopia is a perfectly normal part of aging—one that laser eye surgery cannot prevent.
Though reading glasses may still be in the near future after laser eye surgery, there's a possibility the benefits outweigh this future risk.
See Clearly With Laser Eye Surgery
Laser eye surgery isn't the best fit for everybody, but if it's right for you, it offers convenient vision correction that could last a lifetime. A consultation appointment could be the first step to your glasses-free life.If you have concerns or questions about laser eye surgery, speak to our friendly team at the Red Deer Eye Care Centre. We can refer you to a trusted surgeon, work closely with them to co-manage the steps leading up to your procedure, and offer top-notch eye care in the years that follow.