Wearing glasses as a kid can be a daunting ordeal. Eyeglasses can be difficult to get used to and may cause insecurities in a child. But an alternative that parents can entertain is fitting their kids with contact lenses.
With proper guidance and examination, contacts may be a perfectly safe and healthy possibility for your child. To determine if wearing contact lenses is an option for your child, visit our practice in Red Deer, AB. Our team of eye doctors will help determine the best course of action for your child's vision problems and help your family make the right decision.
From comprehensive children's eye exams to ordering contact lenses, we're here to help your family see it through.
The Myths & Facts of Contact Lenses for Children
Have you ever heard that a child can't wear contact lenses because they're too young? Or because their prescription isn't stable enough? Maybe about how they just shouldn't because children can't take on the responsibility of wearing them? We're happy to report that these are all myths!
Contrary to popular belief, there's also no minimum age requirement for children to wear contact lenses. The defining factor in deciding if a child can wear contact lenses is if their vision problems can be corrected with them. As long as that requirement is fulfilled, it becomes a question of deciding if it's the best course of action for your child.
To help you make an informed decision, our team of optometrists at Red Deer Eye Care Centre is ready to help and guide your family through the whole process. We're here to assist your entire family, so give us a call.
Can Contact Lenses Improve My Child's Early Years?
A child's development is a marvellous, and surprisingly easy to lose track of, affair. A child can have perfect vision in the winter, but as summer comes and school starts up again, suddenly they're having vision difficulties. This is a very common issue, as reportedly as much as 25% of children have some sort of vision problem.
The early years of a child's development are fundamental in their understanding of the world and how to interact with it. Problem is, having to wear glasses can negatively impact that. Limitations to what sports or outdoor activities they can do, limits to their peripheral vision, and even getting picked on by other kids are some of the problems a child that uses glasses may face.
Thankfully, contact lenses can help. Contacts allow your child to practice sports more freely, feel better without the constant constraint of having to wear eyeglasses, and even improve their self-esteem.
Watching Out for Early Vision Problems
Frequent eye exams play a major role in ensuring your child's eye health. Since their eyes are developing so quickly, vision problems can occur suddenly. By diagnosing any possible vision impairments as soon as possible, we can start treating them right away and diminish their effects on your child's life. To that end, the Canadian Association of Optometrists recommends the following frequency of eye examinations:
A child's first eye exam should occur between the ages of 6 to 9 months
Children between the ages of 2 to 5 should undergo at least one eye examination
From age 6 until 19, a child should have annual examinations
So if you think your child is due for a comprehensive eye examination, come see us. With constant eye care and guidance, we can help your child diminish the struggles of vision impairment. Make sure your child can get the most out of their childhood by being able to see crystal clear.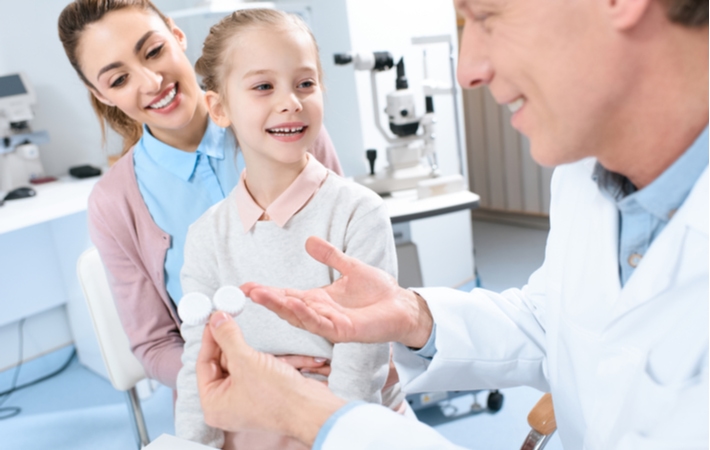 Fitting a Child with Contact Lenses
The first step to getting your child wearing contacts is a thorough examination of their eyes. With the help of these comprehensive eye exams, an optometrist will determine if your child is eligible for contact lenses. This depends on a few factors:
Type of visual impairment your child has
Your child's ability to follow instructions
How well your child can handle the responsibility of contacts
With this information, we'll help you make an informed decision on the best course of action for your child.
If you decide to follow through, we'll be here to help through the transition. We offer a variety of brands and types of contact lenses, and our eye care experts can assist you and your child to ease any concerns. If your child is bothered by wearing glasses, come see us to begin the contact lens process.
Recover Your Child's Sense of Wonder
Using eyeglasses as a child can be an annoying and hindering experience. Fortunately, contact lenses are a viable option in most cases. Contacts allow your children to move more freely, feel better about themselves, and let them experience that childlike sense of wonder without the restraints of eyewear.
With that goal in mind, our practice offers comprehensive children's eye exams tailored to help you determine if contacts are the best option for your child. From guiding your child on how to properly care for contacts to helping you decide on types of lenses, we're excited to help.
Red Deer Eye Care Centre offers a variety of contact lenses that can help your child recover that amazing feeling of childlike carefreeness. Book an appointment and help your child see the world as it was meant to be seen.